BBX Press Corner
«
See all Press Clippings
SF Bay Area Rock — Blue Bone Express @ Cafe Van Kleef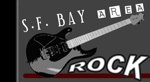 Remember the geeks in the marching band that we all used to tease so much? Well, watch out, because they're back and somehow they've become talented and sexy party boys. Trust me, I observed the whiskey shots and a couple quick burns between sets. We did the interview in a tiny basement room, on the refreshments table was a baguette, cheap Brie, a random and stale fruit salad, bottled water and a stack of bright purple condoms.
They are (dare I say) as entertaining as any rock show I've seen in the Bay Area. Blue Bone Express is a local jazz band with heavy Dixieland influences, right down to the fast two-beat rhythm that makes it so easy to dance to. With multi-talented Jara Queeto (trumpet, piano, and vocals) at the wheel, the band had a packed bar of diverse patrons swing dancing until the bartender kicked us out.
Blue Bone Express performs with The Hot Pink Feathers, a slightly-above mediocre yet entertaining, dance troupe. They are more adorable than outstandingly talented, but their very revealing costumes and constant hip shakes, kept the party going. The two groups are a wise pairing. When pressed about any sexual involvement between band members and their dancing girls, the band gave me nothing more than a laugh and a quick 'no comment.' I'm assuming that meant nothing has ever happened, but there is one single guy in the group, Kevin Brunetti (alto sax, baritone sax, and vocals). And it's always fun for a group of attached men to give the one bachelor in the group a hard time.
The band's repertoire is about half covers of classic New Orleans-style jazz, and half original pieces. Two songs seemed to impress the crowd – though the dance floor was never even close to empty – were Shake That Thing and When the Saints Go Marching In. Both songs are covers, but we all love the old standards. During the latter song Brunetti, Queeto, and trombone player, Jason Freidenfelds, left the stage and played on the crowded dance floor. A brass battle between Queeto's trumpet and Freidenfelds' trombone was a highlight of the night. Queeto's trumpet is more reminiscent of King Oliver (named the #7 jazz trumpeter of all time by one source) than any of the influences the band listed.
Freidenfelds has had some bad instrument-related luck as of late. He had been playing on the same trombone since the fifth grade, and not so long ago he left it on a San Francisco city bus (by the way, if by any chance you found a trombone on a bus…he'd really like it back). He purchased a new one for $200 from a 77 year-old man on a houseboat, down in the Marina district, "but it's just not the same." In addition, during the Mardi Gras party I was attending, a drunken patron stepped on his trombone case and created a hole exactly, and ironically, one foot wide. The guys actually gave me the broken-off piece, despite the warning that I would put it up for online auction if they ever made it big. Freidenfelds has also been known to show up for a gig without his horn, he is the self-confessed airhead of the group.
The second line of the band consists of Jesse Randell on drums and Brandon Stasch on Sousaphone. For those who don't know (I didn't) a sousaphone is the official name for the giant wrap-around horn most of us call a tuba. He hesitated to correct me, but then Brunetti pointed out later, "he's just bitter because the tuba," yes, he said tuba, not sousaphone, "is really the anus of the band." Randell is a professional music teacher, and as talented a drummer as anyone could ask for. The second line provides the strong backbone that is needed to support the amazing talent up front. Queeto's vocals are as close to Louis Armstrong as a lanky white guy in dirty green New Balances can really get, and the lyrics to the original songs are soulful as they are fun.
Not many people know this, but your friendly neighborhood rock critic, is actually a southern girl. The energy created at Café Van Kleef, in downtown Oakland, the first Saturday of every month is very authentic New Orleanian. Blue Bone Express and The Hot Pink Feathers bring the party with them, all anyone else needs to do is show up. A great time is guaranteed. The venue is small but quaint, with a full bar but a very limited beer selection. However they are known for their greyhounds, made with fresh grapefruit juice squeezed right at the bar. Anytime that these groups show up it will be packed, so get there early (9 pm seems to be the time to arrive) and plan to stay late. Unfortunately there is not one cocktail waitress in the place, so the fight from the dance floor to the bar can get a bit annoying. As a side note, there is a great all-night burger place just up Telegraph Ave., just what everyone needs after a night of jumping and jazz. Overall, this show is a must see…even if you aren't a big jazz fan.